Medical Apps for Diseases of Calcium Metabolism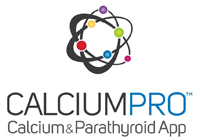 Calcium-Pro guides you through high calcium issues.
Calcium-Pro assess a person's overall calcium metabolism. Calcium-Pro analyzes blood calcium, urine calcium, bone calcium and osteoporosis, parathyroid gland function, and vitamin D levels. The analysis determines the likelihood of primary hyperparathyroidism and the potential risk of many associated health problems. Graphics and tutorials make understanding calcium issues easy. Calcium-Pro: an app made by expert doctors for patients with calcium problems.
App Website  |  App Features  | Buy App for Apple  |  Buy App for Android

Bone-Pro guides you through osteoporosis. Coming Summer 2013
Bone-Pro is an easy to use medical app that assesses and tracks osteoporosis and bone calcium levels. Bone density and osteoporosis are assessed over time taking into consideration a person's overall calcium health, blood and urine calcium levels, menopausal status, hormone replacement, and vitamin D health. Beautiful graphics help make understanding osteoporosis easy. The effectiveness of osteoporosis treatments and calcium supplements are analyzed and graphed.
Vitamin D Pro: Guides you through vitamin D problems.
Vitamin-D Pro assesses a person's vitamin D health, including calcium levels in the blood and calcium levels in the bones. Low vitamin D and vitamin D deficiency is explained and diagnosed so that you can get the most out of vitamin D supplements. Vitamin D is important for cancer prevention and normal calcium metabolism, including strong bones. All types of vitamin D problems are diagnosed, graphed, and assessed. Recommendations on calcium and vitamin D supplements are individualized for each patient. We'll even chose the right Vitamin D that is best for you.

About Calcium Science, LLC
Calcium Science, LLC develops mobile medical apps for the scientific analysis, monitoring and long-term tracking of diseases of calcium metabolism, including: Osteoporosis, Hyperparathyroidism, Vitamin D Deficiency, and Kidney Stones. Founded by a physician/scientist with unparalleled expertise in normal and abnormal calcium metabolism, the apps are designed for use by both patients and doctors, providing high-end graphics and statistical analysis of a persons overall calcium health. Quicker diagnosis, avoidance of unnecessary tests, avoidance of unnecessary prescription drugs, and an enhanced overall experience between doctor and patient are seen with each of our apps.
Read stories about hyperparathyroidism on the Parathyroid Blog.

Contact Calcium Science
[contact-form-7 404 "Not Found"]